Here's your
Mythix Christmas Planner
plus
         the Jim-Jam Plan-Jam Party Replay!
The Printables
The Christmas Planner
Updated for Covid. Including:
Adventures in Advent
Brilliant Budgeting
Excellent Events
Fabulous Food
Gifts & Gratitude
Hospitable Home
Terrific Travels
and more!
Organised, printable pdfs, complete with instructions, in a Google Drive folder for your convenience.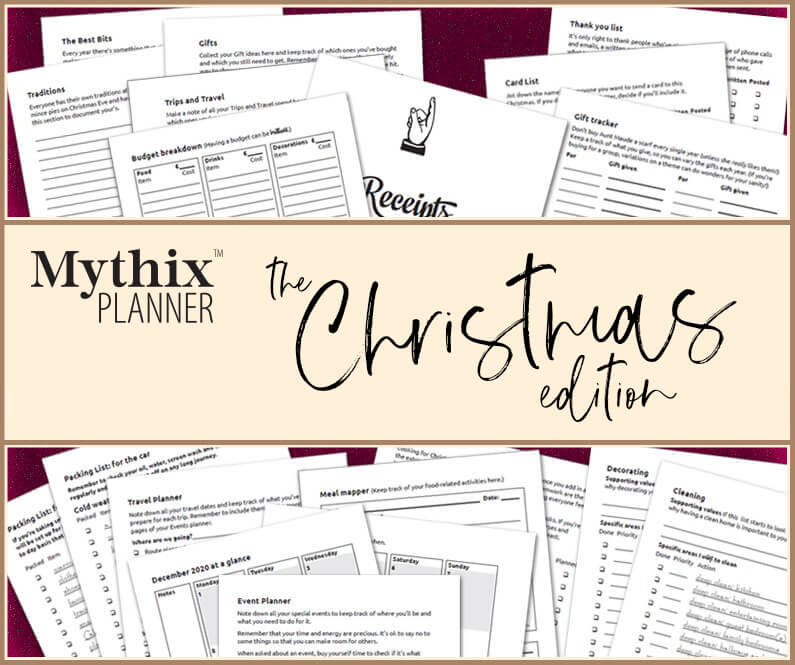 The Video
The Jim-Jam Plan-Jam Party Replay!
In which we cover
the one thing that takes less than 3 seconds but will improve your Covid-Christmas by roughly 13 DOZEN mince pies
the big mystery behind creating a joyful, connected, restorative Christmas, and why knowing this is imperative to get through Christmas this year – even if we're distanced and isolated
the one thing that stops you being able to do what matters to you in the holidays, and how others use this very thing to switch off, relax and have fun!
The Next Level
The Mythix Planner™: Printable Version
Rise from the ashes of 2020 and make 2021 the year you get your One Day goals onto today's To Do list. Take a look at the the pages inside the Mythix Planner™, the astonishingly simple, fail-proof strategy to follow through on your goals, that comes straight from neuroscience, that most people have no idea even exists.
Updated for Covid (and any other surprises) – flexible by design
Easy to navigate – organised pdfs and full printer instructions
Kind to frugal printers – black only files